A Huge Thank You To Our Sponsors!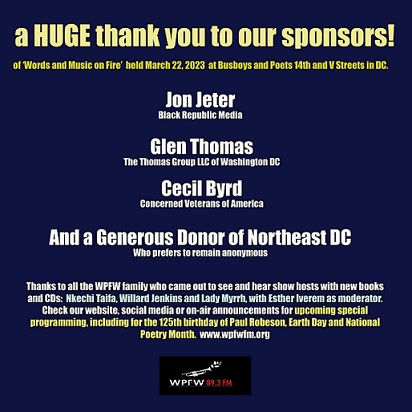 A HUGE THANK YOU!
…to our sponsors of 'Words and Music on Fire' held March 22, 2023 at Busboys and Poets 14th and V Streets in Northwest DC.
Jon Jeter
Glen Thomas
The Thomas Group LLC of Washington, DC

Cecil Byrd
And a Generous Donor of Northeast DC who prefers to remain anonymous
Thanks to all the WPFW family who came out to see and hear show hosts with new books and CDs: Nkechi Taifa, Willard Jenkins and Lady Myrrh, with Esther Iverem as moderator.
Check our website, social media, or on-air announcements for upcoming special programming, including for the 125th birthday of Paul Robeson, Earth Day and National Poetry Month!