We Are One- Together WPFW and You!
The Internet has brought about a dizzying array of media options, making terrestrial radio seem obsolete, with both public and commercial stations asking tough questions about the future.
What one can't find in this never ending sea of media, is the magic that happens with the interplay and dialogue between host and listener - truly programming FROM the community, TO the community, FOR the community!!
89.3 FM has been a leader in providing both news and cultural content in this manner for over 38 years, and we must ensure that WPFW is available to the next 7 generations. At this moment, we can only do that with your financial support.
We invite you to join us in our summer mini-drive from Monday, July 20th through Sunday, July 26th.
Tune in for vibrant and relevant programming examining everything from Cuba at the point of normalization with the U.S., to Black Lives Matter movement, to Billie Holiday at 100, to the Nation of Islam and its political and cultural impact and significance, to the origins and global reach of the Blues, and much more. Be prepared to be enlightened, inspired and entertained!
No donation is too great or small. You can contribute easily and safely by clicking HERE. If you've not yet fulfilled your pledge from our spring drive, please do so today.
This is a defining moment at WPFW, and your support is crucial. Pacifica Radio in the nation's capital will continue only if we work together!!! Join us! WPFW remains your station for Jazz and Justice, serving 100% of the 99!!
Whistle Blower Summit For Civil & Human Rights June 29-31
2nd Annual WPFW Blues Festival
JOIN US on August 8, 2015 at the
2nd Annual WPFW Blues Festival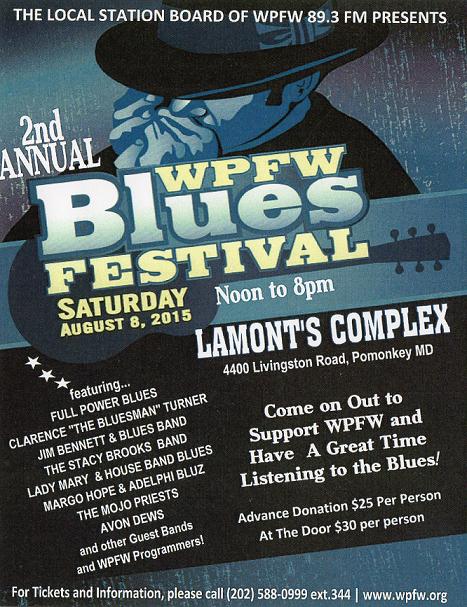 We will be hosting a one day Blues Festival featuring Full Power Blues Band, Clarence "The Bluesman" Turner, The Stacy Brooks Band and many more. PLUS as an added bonus you'll receive a copy of Nap Turner's "Hughes Views of the Blues-Simple Stories" with each ticket purchased.* All this and more for only $25. Cash bar and food on site.
It all takes place 12noon-8pm on Saturday, August 8th at Lamont's Entertainment Complex located at 4400 Livingston Rd, Indian Head, MD 20640.
*While Supplies Last