Jazz Passport and More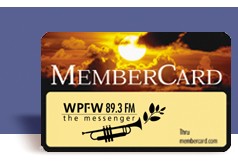 What a great way to extend the value of your support for WPFW! Support, shop and save with the WPFW MemberCard!
Visit the new WPFW MemberCard website to see the multitude of online merchants. that offer saving through the WPFW membercard. MemberCard rewards can be converted to cash on a debit card or through PayPal, or even given back to WPFW as a contribution.
To see our special Jazz Passport savings, go to Local Benefits by Category and Select "Jazz Benefits"
Jazz Passport Attractions include:
Be Mo Jazz (Baltimore, MD)
Black Rock Center For The Performing Arts (Germantown, MD)
Blues Alley (Washington, DC)
Clarice Smith Performing Arts Center (College Park, MD)
Coco's Butter Café (Columbia, MD)
Maryland Summer Jazz Festival (Rockville, MD)
Twins Jazz (Washington, D.C.)
Reginald F. Lewis Museum-First Friday Jazz (Baltimore, MD)
UDC JazzAlive and Calvin Jones Big Band Festival (Washington, DC)
Merchant and On-line Discounts include
AllGreenThings.com
Cherrymoonfarms.com
BestBabyOrganics.com
Ecobags.com
Coco-zen.com
ProFlowers.com
Sharisberries.com
TerraFurnishings.com
Wisconsincheesemart.com